If you get a lot of text messages on your iPhone 13 and are often interrupted by their notifications, then you might be wondering if it's possible ot silence those notifications.
Fortunately, this is an option that is available to you, and it won't require you to put your iPhone into Do Not Disturb mode, or disable all of the notifications for all of your apps.
You can silence text notifications on an iPhone 13 by going to Settings > Notifications > Messages > then tapping the Allow Notifications button.
This how to turn off flash notification article will show you the setting to modify if you don't want the camera flash to go off whenever you receive a text on your iPhone.
How to Turn Off iPhone 13 Text Message Notifications
Open Settings.
Select Notifications.
Choose Messages.
Turn off Allow Notifications.
Our guide continues below with additional information about how to silence text notifications on iPhone 13, including pictures of these steps.
Text messaging has become the primary method of communication for a lot of people, to the point where you might be opening your Messages app dozens of times each day.
When your volume of text messages is really high, you may not actually want or need to see notifications for texts, because you will be checking them pretty frequently.
Luckily you can choose to disable text message notifications completely on your iPhone by following just a few short steps.
How to Stop Notifications for Text Messages on Your iPhone 13
the steps in this article were performed on an iPhone 13 in the iOS 16.4 operating system, but will also work for most other iPhone models and iOS versions.
Step 1: Open the Settings app on your iPhone.
Step 2: Choose the Notifications option from the menu.
Step 3: Scroll down and choose Messages from the list of apps.
Step 4: Tap the button to the right of Allow Notifications to turn it off.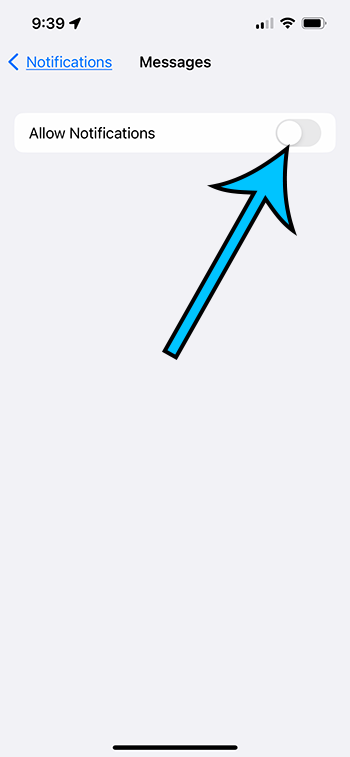 Now that you know how to silence text notifications on iPhone 13, you will be able to toggle this setting on or off based on whether or not you need to be able to adjust these settings.
If you don't want to turn off everything completely, then you can leave that setting turned on, but adjust the individual settings on this menu instead.
For example, you could choose the "Show Previews" option and turn those off if you don't want to see parts of your text messages on the lock screen. Or you could select Customize Notiifcations, then Repeat Alerts if you don't want to receive the same alert multiple times.
Matthew Simpson has been creating online tutorial for computers and smartphones since 2010. His work has been read millions of times and helped people to solve a number of various tech problems. His specialties include Windows, iPhones, and Google apps.